Finally started painting this bad boy up. It's also my first experiment with greenstuff, used to fill some gaps. Doesn't look
too
horrible, I don't think.
Base on the bone was Ushabti Bone from Citadel. Worked well enough, especially with some Agrax Earthshade over it. Cloth was done with a mix of three drops Intense Brown, two (small) drops Sun Yellow, and then given a wash with Carroburg Crimson. Yeah, Citadel's making me really lazy with washes. Not gonna lie. I likes it. Leather was done with Ruddy Leather, and then Oiled Leather on the edges and in lines to make it look old. The khopesh is done in old bronze, with an Athonian Camoshade wash. Gives it a nice tarnished look, though you can't see it in the pictures too well. Various wire-looking contrivances I did in Copper from the old Pro Paint line. Picked up some of those a week ago, and I've been itching to use them. Wood done with a mix of three parts Rainy Gray, one part Intense Brown, and then given a wash of Drakenhof Nightshade, to give it that aged, weathered look. Chains were done with Tarnished Steel, with an Agrax Earthshade wash to make them look a bit rusted. More on rust in a bit.
Not much to say here, except that you can see the chains and wood a bit better here. Peeking out from behind his knee you can see the head of a morningstar. Done in Tarnished Steel, with a few highlights in Pure Silver.
Here he is from the back. The hammer was done in Blackened Steel, with Old Bronze inlays.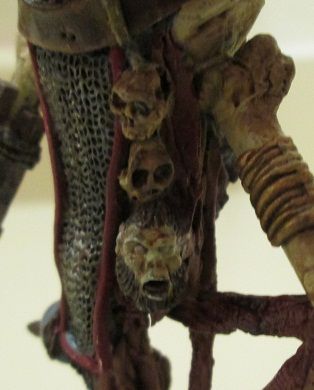 Here's his nice collection of heads. That orcish looking thing is painted with Orc Flesh (another old Pro Paint pot), with Reikland Fleshshade over it. The chainmail was done in Tarnished Steel, with a drybrush of Pure Silver for highlights, and then some Agrax Earthshade to age it.
Here's his rusty old knife. Hilt was done in Old bronze. The blade was done in Tarnished Steel with Pure Silver highlights. I then gave it the Earthshade wash, and used Rust Orange Ageing Powder, from Back 2 Base-ix. Next time, I'm going to do a bit more study in how rust actually forms. This was just kind of haphazardly slapped on. Still, doesn't look too bad, I don't think.
You'll notice, of course, he's unbased at present. I haven't decided how I'm going to base him yet. Part of the issue is that I don't have any bases large enough (though that's easily fixed). A larger issue is that his integral base isn't even. His right leg isn't quite long enough to have the leg set in the model while having the two base pieces fit properly. So, I'm going to have to fashion some way of leveling it. Likely I'll just make something out of Greenstuff. Rocks and so forth. Hopefully it'll look decent enough. But that's a project for another day. For now, I'm calling him complete for the day.