Okay, a buddy of mine gave me some advice for salvaging the ghoulien. For those who didn't see my last thread, I have no idea where he came from or what he's supposed to be. I'm still not one hundred percent on it, but I think he looks better than he did earlier.
I did some highlights by drybrushing assorted areas with Citadel's Ushabti Bone. Does seem to have helped some.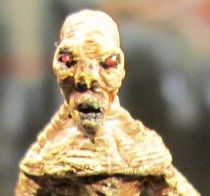 I touched up the nose and ears a bit, tightened up the black around the eyes, and added a few little touches to the eyes themselves (a little darker red at the bottom of the eye, and a white dot in the corner).