I've had this idea for some time of using Alice and the White Rabbit in a diorama with the Jabberwock. This will be the first time I've ever attempted anything like this. This thread will focus only on Alice herself.
Anyway, in thinking about what I wanted Alice to look like, I immediately rejected the classic Disney blue - although the thought crossed my mind to convert her into an American McGee version by replacing the bottle with a large knife. Ultimately, I settled on the phrase 'Alice in ivory' as the overall tone I wanted to set.
I started with a quick one minute sketch of the figure to block out where I wanted to place my colors, scanned it into the computer and printed a sheet of them to test color choices. Here's the test sheet: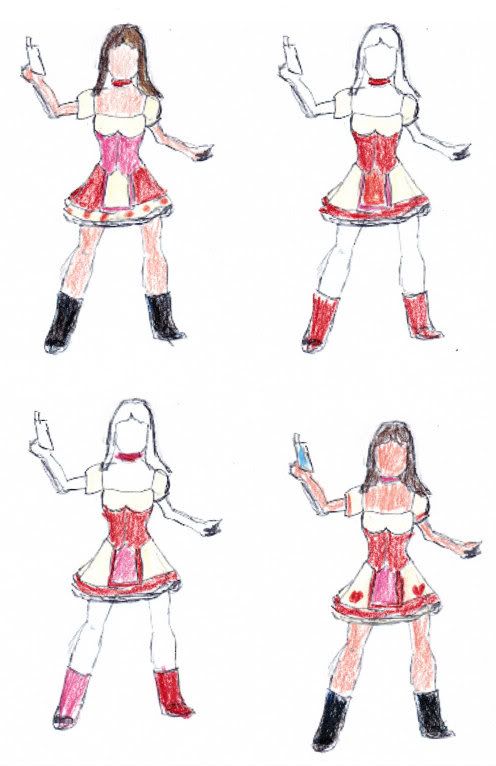 While my wife was enamored of the 'pink go-go boots' in the third one, I didn't like it. I also decided I'd make a go at a freehand detail with hearts on her skirt. (May God have mercy on me.) Here's the final: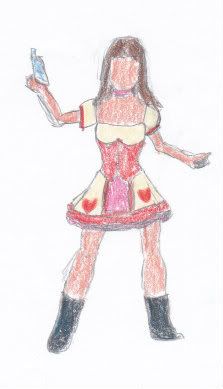 Note: It's difficult to see in my sketch, but the petticoats will be the same pink as her choker and the center panel of the apron.
Here's what I've settled on as paint choices:
Ivory: Basecoat Creamy Ivory. Shadows Yellowed Ivory. Highlight White Sand.
Note: I decided not to go with the full MSP Ivory triad because I wanted a very light, pale ivory effect.
Red: The Bloodthirsty Reds triad.
Pink: MSP Breast Cancer Pink, will probably highlight by adding a touch of the ivory and shade with Carnage Red. (Very open to suggestions, folks.)
Skin: Fair Skin triad mixed 3:1 with Rosy Skin.
Boots: Basecoat Mahogany Brown. Shadows Midnight Blue. Highlight Stormy Gray. Brightest Highlights White Sand
Note: I chose this combination because it struck me that the combination would look black without having to work up from pure black shadows.