The instant I saw the Darkreach Dark Elves miniatures I thought they would be perfect for the Genasi race in Dungeons and Dragons: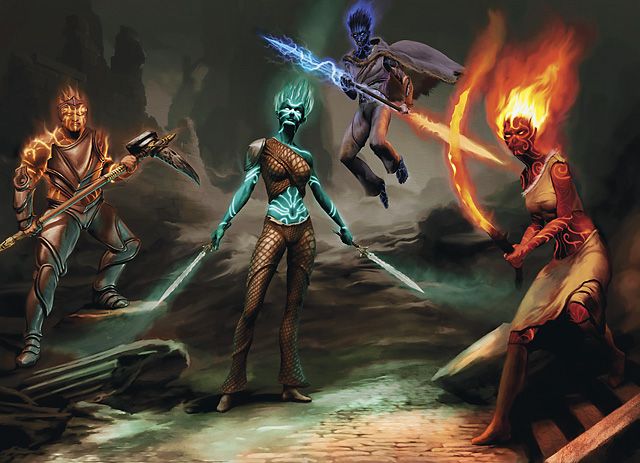 Here's an in progress take on transforming 14598: Erdolliel Saerwen, Dark Elf Glaive Thrower (
http://www.reapermin...ve/latest/14598
) into a Fire Genasi Desert Wind Monk:
Introducing Mara-Kai. She's a little over half way done.
Armor - Concept is to be fire themed, but a little more muted to look like a worn desert traveler. I only have a partial base coat down at the moment as I was playing with colors. It needs a lot of little touch-ups before I start shading and highlights. Still deciding on the color of the boots, belt, and a few other small armor pieces.
Hair - Living flame. I need some help with making this look more realistic. There's a lot of layers, but not much depth so it's proved challenging achieving a 'white hot' center that flows to red tips.
Base - Magma rock. I glued some pebbles onto the base, thinned down some fire colors to paint between the cracks, and went over the pebbles with several coats of black. This took hours to finally get the look I wanted.
Skin - The skin tone is two parts fire orange and one part carnage red. I really want to include the bright etched energy lines, but having trouble with the tiny details. Even using my smallest brush the brush stroke seems too thick. This is only the 2nd hero miniature I've tried painting, so I'm still learning.
Thoughts? Tips?