Hello everyone! This is my second post here after some time, mainly because I was stressing myself out trying to make all of my sculpts and painting perfect, and there was no way to do that in a quick enough way to be able to play with them in DnD games. So my kind husband finally talked me down from doing everything perfectly, so I could go back to enjoying myself. And the fruits of this are my mushroom people army I'm making!
So, this is the start of it. You can see I had started with regular sculpey with one of the mush-ladies, but then I got some super sculpey. There's about ten minis here with their bases, all unfinished. I did some bases with cobble stone, just practicing different techniques, and some with smooth stone, and one with pebbles. I have some ideas for what they'll wear, clothing wise, but for now I'm just fleshing out their bodies, and figuring out what to do with their caps, legs, arms and weapons. These ten guys here are all intended to be archers. So here's the line up!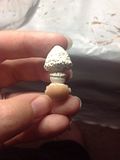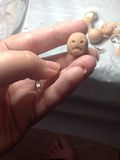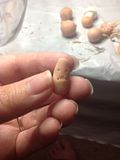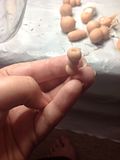 Whew! So, angry, unhappy, mean mushroom peoples! I am having a bit of trouble however with adding the legs and arms to the minis. I figured that, since the mushroom people just had lumpy shapes, I didn't need to put wire skeletons inside of them. So I made the bodies, baked them, and now the non-dry clay is having trouble sticking to the baked clay. Any suggestions for what I can do to fix this problem, or are these minis just ruined for now?