This weekend I actually got some seriouse painting done! First time in months what with the basement being tore up and spending most of my free time working on that on top of "normal life"
How did I find the time? Easy! Just sacrificed about 10 hours of sleep between FRI and SAT nights. Also found about 2 hours on SUN afternoon.
I guess these would fall under speed painting. There's only 3 layers of paint on them plus the metal details. Started with a base coat of light brown, thinned that down plus darkened it for the second layer, then whipped up a dark brown wash to finish. Finally I mixed a metallic silver with a medium gray, tinned to taste, and tried my best to put that on all of the metal bands, locks, and keg taps. It was good practice thinning paint and brush control which I badly need :) I've been relegated to my work bench in the garage and I actually like it. It's quite tall so when I sit in a regular chair it's about chest high; keeps me from hunching over what I'm working on.
After 8 hours here's a WIP shot: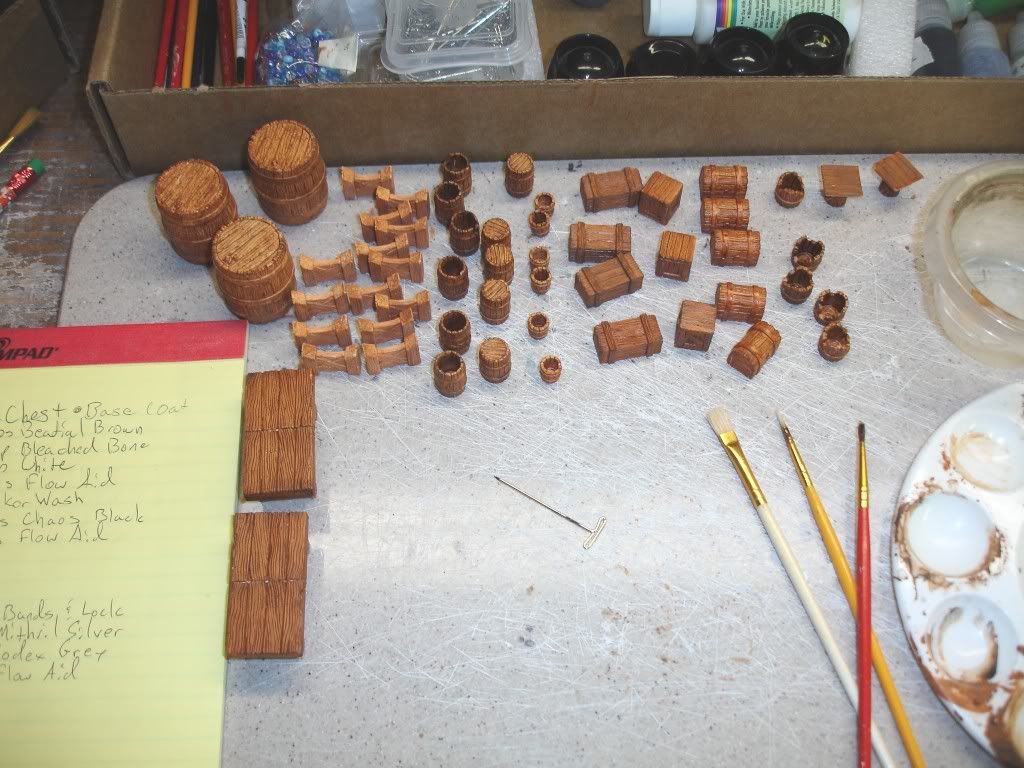 Here's a sample of each prop finished: (disclaimer: I did not paint the farmer mini, that's a DDM)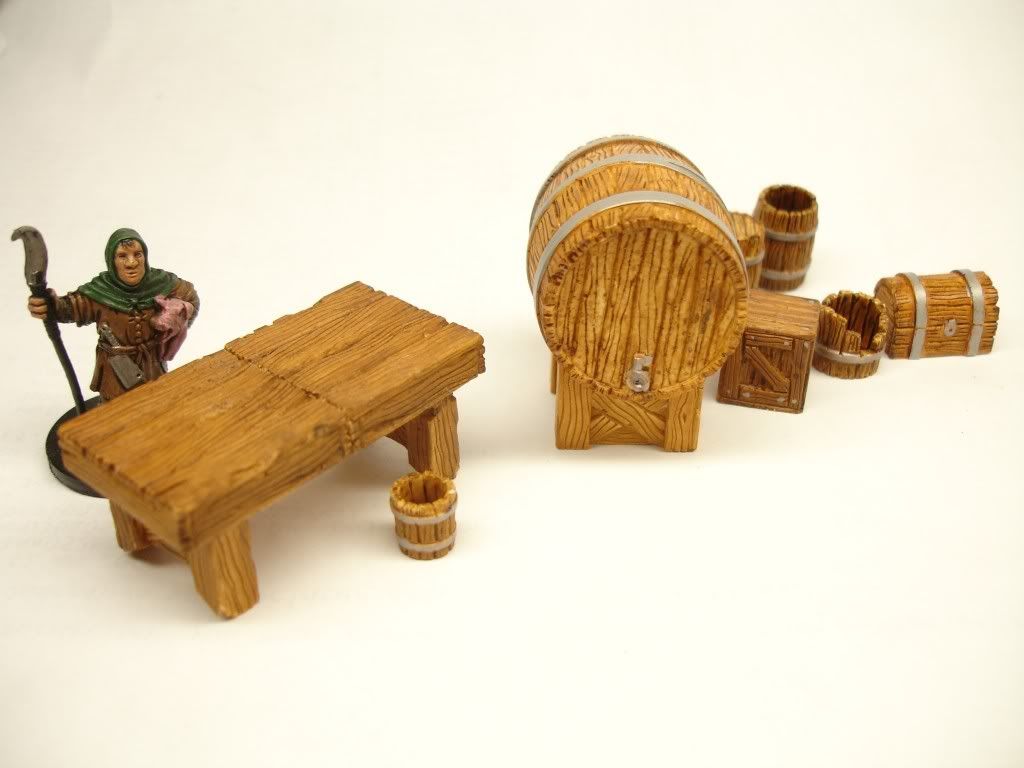 Closer shot. As you can see my brush control on the metal bands needs improvement. Also you can see the brown underneath showing through on some of the metal bands.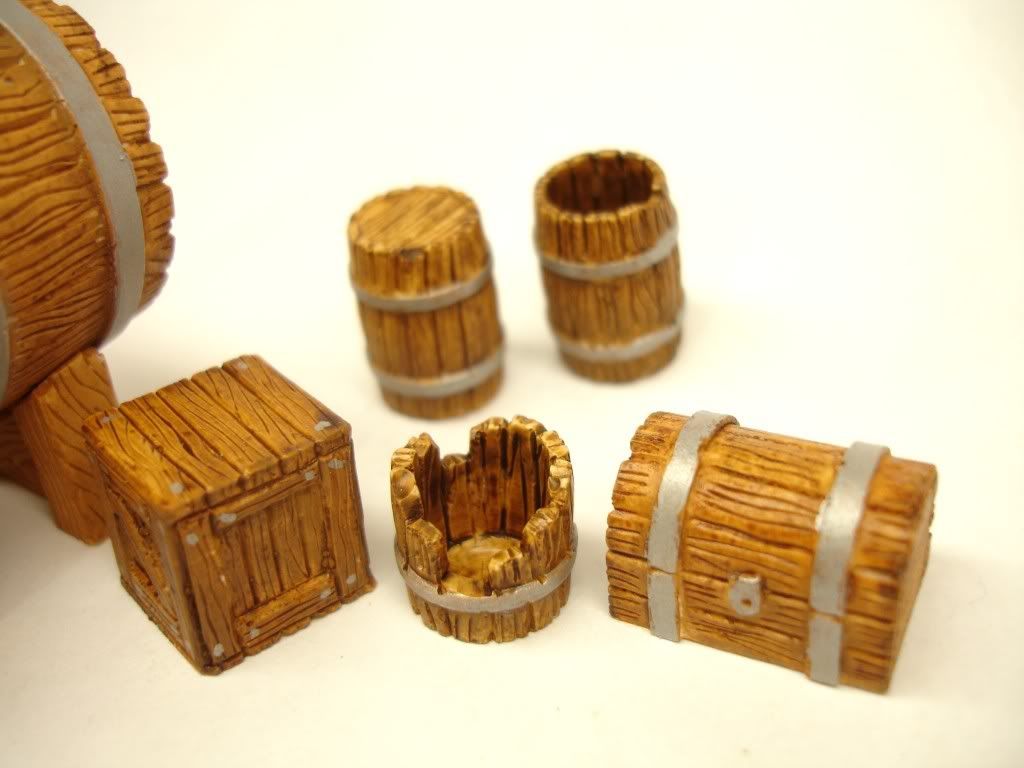 These guys I did a much darker second layer and then a dark wash. I like it; almost a walnut or some other dark wood. Once again brush control sucked with metal bits =) Look at the one on the right, the metal bands, see that raised edge I didn't get any paint on? How do you get in there with out getting it all over the perpendicular surface?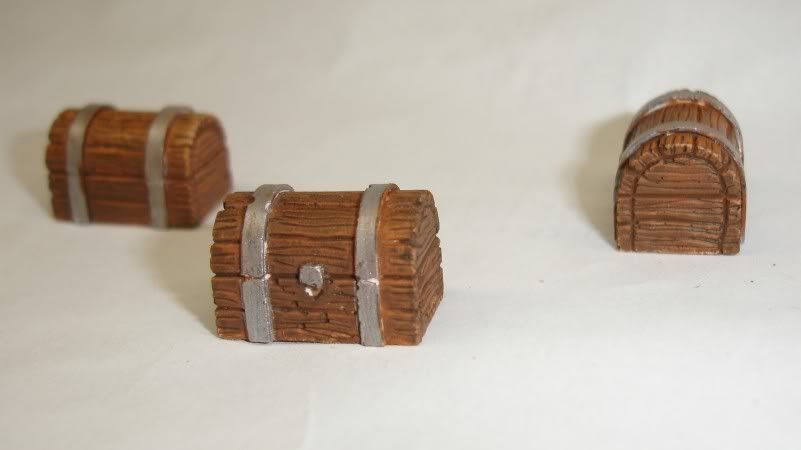 Overall I'm quite happy with how they turned out; despite some splotchy areas (mostly due to me just handling the minis with my dirty, paint filled, sticky, fingers) and a few miss placed metal spots. They are going to get man-handled on the battle grid anyway :) I'm also surprised how well the photos turned out; it was a super cheesy setup but plenty of light and my new found Macro mode on the camera helped a lot. It's basically the top shelf of my work bench which is about 12-14 inches below a big double ballast 24" fluorescent light, a large sheet of white paper under that rolls up the wall, tape to the wall, and then just shot some photos. I'm amazed how raw the camera is; it hides NOTHING. Even with my magnifying glasses on I didn't see how bad I was with the metal bits until I looked at the photos! So much more respect now for those who's minis look stellar when photographed close up.
Comments are welcome; always willing to hear how I may improve.
Thx!