we've seen most of these techniques before, but the reason i have my 12 step process is to make it a tad easier for those who squeal "i don't know how to paint!" which is translated by my ears as i'm afraid to paint, or, i'm too lazy to paint...in which case i feed them this.
NOTE: you can choose to toss certain steps of the process to speed up time and produce more mini's but i will explain it in full, just so you know.
(step Zero is assembling +converting, pre-basing, and Priming)
1: BASECOAT PRIME:
just coat the model in paint. make sure it's not gloppy, covers no detail and that it covers all the parts it needs to cover. hit any future metallic spots with the base coat too, as you'll find some metallics go on translucent unless they have a medium-to-dark backdrop.
2: secondary basecoat. yeah, secondary basecoat. if you want a more diverse looking model, you'll pick a few spots to have a different color. darker works best on secondary, unless you have the great brush control to segregate the two...
3:THE DARKENING INK:
yeah, it's a quick way to cover the entire mini in shadows, cause a gradient, and pick out hidden details. you must use a dark version that compliments both basecoats as shadow. dark blue, green, and brown work best, black is a common useful ink, which i used here.
(INK? you say? : it's thicker than a wash, lighter than diluted paint. if using a quality paint like Reaper MS or GW, go with a 60% water, 40% paint solution, though a bit thinner might do the job. with thinner cheapos like apple barrel, half and half will do.

4: DETAIL FLESH BASECOAT:
this is how flesh is done, use a medium color unless you wanna forgo the highlighting step later
good brush control at this step is a good idea.
5: FLESH INK:
use a dark or medium dark brown. let dry.
6: flesh highlights.
use the lighter color, or color you really intent the flesh to be, and reclaim the raised areas of the face, closer to the sun, without shade form any helm-visor of hat...
7: WEAPONS BASECOAT:
use better brush control to metallicize those weapons! you may wanna go two-tone with a wooden brown, or separate hilt/pommel color
8: Weapons Ink:
use black ink.
in the example i skipped the inking because i though it came out well with just the basecoat.
9: Gear and Accessories basecoat:
you'll most likely not wanna skip this, but it's not required. select all the non-clothing, non-weapon, non-flesh parts, and give then a targeted basecoat...if you decide to go a little tight on the brush control, you can use the darkening ink from step 3 as your shadow color...just reclaim the high and middle areas.

10: Gear and Accessories Ink:
use a color that fits, black and dark brown work the best...
11: HIGHLIGHT THE MAIN COSTUME:
you can choose to highlight everything, but only if you wanna do the work!! just pick out the sun-direction spots on the clothing and give them a hit from a highlight color. i used a dark red on step 1, which got darker with the ink (step 3) and so i used a slightly lighter red to bring out the differences. the brighter the color, the more it will pop.
12: FINAL DETAIL AND BASECOLOR:
if you wanna add a symbol or whatnot, go for it.
if the base looks wet in the pic, that's 'cause it is!!!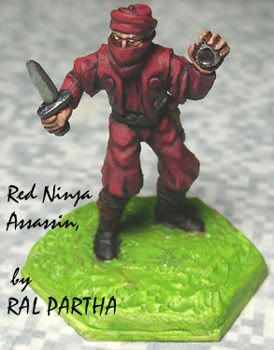 in case you haven't guessed, the bold steps are mandatory....